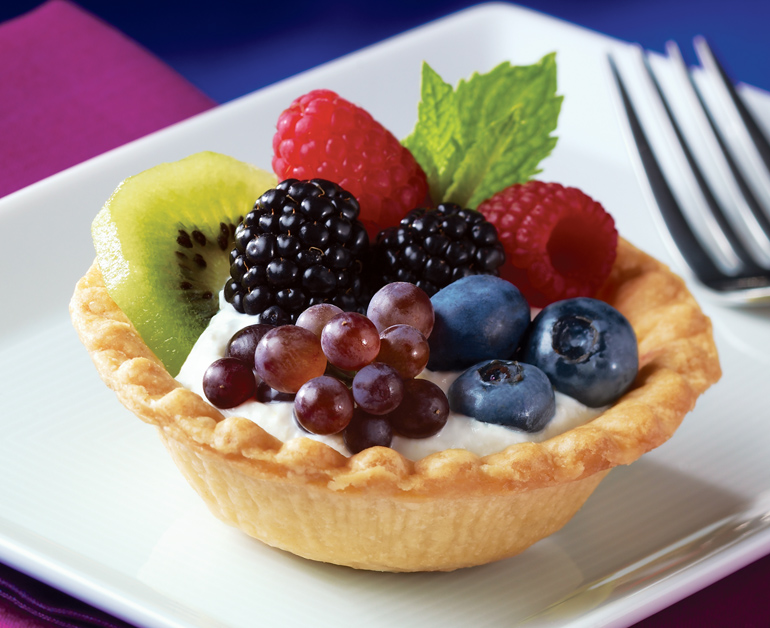 SO WHAT DO WE KNOW ABOUT CHOUX PASTRY (ALSO KNOWN AS PÂTE À CHOUX)?
We know that it comes from France. It's a light, airy, crispy pastry used to make , cream puffs/profiteroles (both sweet and savory), choux au craquelin, croquembouches, gougères, French crullers and more. Flour, eggs, butter and water are all you need to make it. And depending on who you ask, choux pastry is either super easy or insanely difficult to make. What's up with that? Let's find out.
I used to eat a lot of eclairs and cream puffs when I was little, so choux pastry has a special place in my heart. And I find it pretty ingenious that choux pastry doesn't use a chemical raising agent to rise. Instead it uses air and moisture trapped in the dough to rise (water and eggs).
Chocolate Molten Lava Cakes
A cross section of a choux pastry case, showing the airy center and a crispy outer shell.
I had maintained for quite some time that I was a choux pastry whiz, because it was one of the first pastries I learnt how to make. But, one day, I just couldn't get it right! And I couldn't figure out what I was doing wrong. So I started testing different ways of making it, until I finally understood what made it work for me. If your choux pastry recipe doesn't always work, then THIS foolproof perfect choux pastry guide is for you. This post will help you understand WHY and HOW choux pastry works, with plenty of troubleshooting tips. 
WHY IS HOMEMADE CHOUX PASTRY SIMPLY BETTER?
Store bought choux pastry cases are almost always dry and tasteless. This is true for store bought cream puff shells as well as eclair shells.  Homemade choux pastry however, is the real deal! Crisp on the outside and airy & custard-like on the inside. And when you understand how choux pastry works, and what's happening in each step, it really is super easy to make.
So let's find out how to make PERFECT Choux Pastry every single time. This is the ULTIMATE GUIDE for making FOOLPROOF choux pastry (pâte à choux), for perfect profiteroles/cream puffs, eclairs, craquelins and other choux pastry based desserts. It's a lengthy post, where I cover EVERY aspect of making perfect choux pastry, troubleshooting choux pastry problems, tips for profiteroles and eclairs, as well as variations. So hold on tight!
WHAT IS PERFECT CHOUX PASTRY (PÂTE À CHOUX)?
A pastry with a light and crisp outer shell, and a delicious, soft, creamy, custard-like inside. And it's airy with large air pockets inside as well, perfect to be filled with a sweet filling.  A few cracks will be visible on the outside, but it still retains the shape it was piped in.
It can be round for profiteroles/cream puffs and craquelins, or elongated for eclairs.
Personally, I like my profiteroles to be a little softer, and for my eclairs to have a firmer shell. This is because the elongated shape of eclairs hold up well, and are more stable if they are made to have a firmer shell. Profiteroles are more forgiving and foolproof than eclairs, because of their round shape, and as such I like to keep them a little softer. Choux buns (profiteroles, cream puffs), are less likely to collapse compared to eclairs. 
BUT, shit can happens when you're trying to bake perfect choux pastry
WHAT CAN GO WRONG WITH PÂTE À CHOUX?
Profiteroles or eclairs have collapsed.
They are flat, or look deflated. The eclairs look like they have a concave bottom, or there's a crack on the bottom.
Choux pastry is too soft and soggy.
Usually profiteroles or eclair shells have a crisp shell. The crispness doesn't last long when it's exposed to air or filled with pastry cream. However, they should never ever be soggy.
Profiteroles or eclair shells have a lot of cracks on top.
They have risen irregularly, with lots of cracks, and kind of look like an ugly ass flower.
Choux pastry shell is too dry, doughy or crumbly. 
Now let's see why these things happen.
L to R – 2:1:1:2 ratio recipe, runny dough, dough not cooked longer, extra flour
CHOUX PASTRY TROUBLESHOOTING
WHY ARE MY PASTRY SHELLS FLAT, SOFT, AND SOGGY? 
Have your profiterole shells collapsed? Do your eclairs have sunken concave bottoms? They're not the, round, hollow, perfect choux pastry shells you see in bakeries?
So what causes this?
REASON 1  
Chances are the dough was too wet and runny. When you pipe out the batter, it probably didn't hold its shape (see the picture above – the runny batter kind of spreads out). That means it has too little flour, or too much liquid in the form of water, eggs and/or butter.
REASON 2 
Removing the choux pastry from the oven too early is another reason why your choux shells will be flat. If they were soggy to start with, then they will not rise properly. But even if they do rise, they will deflate when they cool down, due to too much moisture inside the shell, especially if you take them out of the oven too soon. The shells didn't have enough time to form a stable crust, so they collapse as they cool down.
REASON 3
You need to prick the shells towards the end of the baking time (and/or after), to allow the shells to dry out. If you don't, the hot humid air will collapse the soft shell as it cools down.
How to fix pâte à choux that is too runny
THIS HAPPENS IF YOU ADDED TOO MUCH EGGS, OR YOU DIDN'T COOK THE DOUGH LONG ENOUGH, AND HAVE TOO MUCH WATER IN YOUR DOUGH. 
Whatever you do, NEVER ADD EXTRA FLOUR! NEVER! Repeat after me – I will never add raw flour to a runny choux pastry dough. I see recipes suggesting this, and it's just a recipe for disaster.
So then what do you do?
Make another half batch of the cooked dough with water, salt, butter and flour (with no eggs!). Once you've made that part of the dough by cooking it in a saucepan and you have the right consistency, let it cool down (covered). Add the cooled down dough to the runny dough a bit at a time, mixing it into the dough well, until you get the right, pipeable consistency. It always works like a charm!
REMOVED THEM FROM THE OVEN TOO EARLY, OR TOO MUCH MOISTURE IN THE SHELLS?
If that is the case, leave them in the oven longer (until the shell is a darker brown in color). If you baked them at 350°F or lower, then increase the oven temperature.
And ALWAYS remember to prick your baked choux pastry shells (profiteroles or eclairs) with a skewer or a sharp knife and let the moisture inside the cases escape while drying out the shells. This helps prevent collapsed shells, so you can get perfect choux pastry shells. I also like to prick the shells during the last few minutes of the baking time to help with drying out the pastry shells.
Some recipes call for letting the choux pastry shells dry out in the oven, with the door half open. You can do that too, but if you have another batch of choux pastry to bake, this can be cumbersome. So let the choux pastry cool down in a warm, draft-free area. I prefer keeping them in the kitchen (which is already warm because the oven's been doing its thing).
MY CHOUX PASTRY SHELLS HAVE TOO MANY CRACKS OR IT LOOKS IRREGULAR. 
So you pipe the pâte à choux nice and smooth, but when it comes out of the oven, it looks all kinds of weird.
REASON 1 
Pâte à choux dough has undissolved solids or is not smooth.  The salt or sugar hasn't dissolved properly. The dough isn't smooth because of flour lumps that haven't been mixed properly, or you added raw flour to the dough after adding eggs.
Chances are there's stuff in your pastry batter that shouldn't be in there. Things like flour that has not been sifted or salt that was not melted. This can interfere with the smoothness of the pastry.
REASON 2 
Choux pastry was baked at too high of a temperature. The rapid rise of the dough at high temperatures can cause it to crack as well.
Many recipes call for pâte à choux to be baked at two different temperatures. First at a higher temperature for a few minutes, and then finish off at a lower temperature. The reasoning behind this is that the higher temp. facilitates the rise of the pastry because the high heat causes the water to evaporate faster, thereby raising the pastry faster and higher. Then the temperature is lowered and the pastry is allowed to dry out and bake properly.
REASON 3 
The piping method can cause cracks as well. This includes the piping consistency as well as the shape of the piping tip (nozzle). If you're piping eclairs or profiteroles, you need to make sure to pipe consistently.
Ripples in the dough will give rise to cracks. This is especially true for profiteroles. So make sure the tip is always touching the surface of the dough when you're piping, and you're applying smooth and consistent pressure, without causing ripples.
While the shape of the piping tip doesn't really matter when it comes to profiteroles, this can cause irregularities with eclairs. Eclairs piped with a round tip can cause more cracks on the surface, compared to a French star tip that has "finer teeth".
How to ensure your pastry cases are not crackly or irregular
MAKE SURE ALL THE SUGAR AND SALT ARE DISSOLVED BEFORE LETTING THE WATER COME TO A BOIL. 
I've read that the addition of completely dissolved salt apparently helps prevent cracks from being formed on the shell, although I'm not sure why. I didn't test it without salt to see if that's indeed the case. You need to add a bit of salt to the dough anyway, because it really enhances the flavor of the choux pastry, so there's really no reason to go without salt. Just make sure to stir the water-butter mixture frequently to make sure the salt and sugar dissolve well before the water comes to a boil.
MAKE SURE THE FLOUR IS FINE AND THERE ARE NO FLOUR LUMPS IN THE DOUGH. 
So sift the flour before you add it into the boiling water. This will make sure there are no lumps in the flour to begin with, and that the flour is nice and light. Mix the flour into the water off the heat, so you can really make sure the water is being absorbed by the flour and there are no lumps. I like to use a flexible silicone spatula to do this, and mix the dough by flattening any lumps I see with the spatula as I go. Then I return it back to the heat and mix it further to cook off the extra water.
COOK THE CHOUX PASTRY AT A LOWER TEMPERATURE THROUGHOUT THE BAKING TIME, RATHER THAN SWITCHING BETWEEN A HIGH TEMPERATURE AND A LOWER TEMPERATURE. 
The theory of baking choux at two different temperatures may work for some. And if it does for you, you can keep doing that. However, I find that cooking choux pastry at one set temperature the whole way through, produced more consistent results with a smooth top and minimal cracks. Plus it's more convenient of course.
I've found that the high temperature that most recipes call for, makes the choux pastry expand and rise rapidly, almost chaotically, causing the pastry to split and look ugly.
PIPING CONSISTENCY 
Make sure the piping tip is always touching the dough, and not causing ripples in the dough. Also make sure there are no air bubbles in the pastry bags too.
PIPING NOZZLE 
If you're making eclairs, I highly recommend a French star tip. This will also minimize ugly cracks in the eclair shells and help keep the shape of your eclairs.
WHY ARE MY PASTRIES TOO DRY, DOUGHY OR CRUMBLY
You do get a nice crisp shell, but when you crack it open, it's not as deliciously "custardy" or soft on the inside. Or even worse, it hasn't risen at all and tastes like egg bread. Whoopsie!
REASON 1 
You added too much flour, or not enough eggs. Not getting a glossy sheen on your dough is a good sign that your pâte à choux is going to be dense and dry.
Or if you added raw flour to your dough because it's too runny, it can mess with the final consistency too.
REASON 2 
You baked it too long, and the shells are almost burnt, and it's very obviously going to be too dry. Another reason is because you let the choux pastry dry out too much – especially if you let the choux pastry cool in the oven, and you forget to take it out.
This can also happen if you let the choux pastry stand outside uncovered, for hours, after they've been cooled. You CAN leave the choux pastry covered in an airtight container though!
Look for that glossy sheen!
How to fix dry pâte à choux shells
BAKING TIME
If you baked it too long the first time, simply reduce the time in the oven by a few minutes next time. Every oven is slightly different depending on how hot it actually is, and also the hot and cold spots you get in every oven.
DOUGH CONSISTENCY
Make sure to check the consistency of the dough, and not add raw flour to fix runny dough.
If your dough doesn't have a sheen even after adding all the eggs, don't worry! Just add extra eggs until you get that right consistency. Chances are you may have cooked the dough too long and too much water evaporated, but it can easily be fixed by adding extra eggs. Just make sure to add a little at a time, rather than a whole egg at once.
CAN I USE PASTRY FLOUR OR BREAD FLOUR INSTEAD OF AP FLOUR?
Bread flour has a higher gluten content than AP Flour. Using bread flour can produce pâte à choux that has a thicker shell, and will rise less than choux pastry made with AP flour.
Bread flour does result in profiteroles and eclair shells that are more sturdy, and hold their shape better. So for that reason I prefer using bread flour to make my eclairs.
Pastry flour has less gluten than AP flour. This will result in a lighter pastry case, that rises more. These are great if you want "lighter than air" profiteroles, or maybe if you want to combine it with craquelin. I don't generally like using pastry flour for my filled choux pastry though – just my personal preference.
HERE'S WHAT GIVES ME THE MOST CONSISTENT RESULTS FOR CHOUX PASTRY.
Making the dough
WEIGH THE INGREDIENTS. EACH ONE OF THEM.
Michael Ruhlman's ratio by weight for choux pastry is 2:1:1:2 of water, butter, flour and eggs. While this works well, I find that adding a little extra flour helps make perfect choux pastry that is crisp and stable. The pastries keep its shape as it bakes – a very desirable result.
Whenever you can, ALWAYS measure ingredients by weight, not by volume. This is true for any kind of baking. While I don't have a problem measuring by volume for some recipes, I always prefer to use weight because that gives more consistent results. Here's a good kitchen scale that you can use, that is inexpensive.
With eggs, I like to crack them into a jug, and whisk them before adding to the dough. 
COOK THE DOUGH FIRST
Choux pastry or pâte à choux, is very unique in that for perfect results, it requires the dough to be cooked first! This unique step results in a really sturdy pastry shell that also has a custard-like texture on the inside.
Always start with cold water (or milk). Add the salt and the sugar to the water. Cut the butter into pats (or smaller), to ensure that it melts BEFORE the water comes to a boil. You don't want to keep stirring boiling water to melt the butter. Stirring the water frequently while it warms up ensures that the salt, sugar and butter melt before the water comes to a boil.
As soon as the water mix comes to a boil, remove it from the heat (but don't turn off the stove) and add ALL THE FLOUR IN ONE GO. Mix immediately for about 45 seconds, to make sure there are absolutely no lumps. This is important because you need to mix in the flour well (flour needs to absorb all the moisture of the butter-water mix), and having a smooth dough means that you won't have cracked shells later.
Then cook the dough further on the stove so that enough moisture evaporates to get a good dough. A lot of recipes will talk of different signs to look for when cooking the dough – from the dough pulling away from the sides of the pan, to the dough looking like mashed potatoes, or leaving a film of dough on the bottom of the pan.
Heating the dough for too long can cause the butter to split from the dough as well. So make sure you don't do this.
The dough leaving a film on the bottom of the saucepan (if you're using a stainless steel pan).
Oil droplets forming on the bottom of the pan (if you're using non-stick pans).
The dough comes together to form a cohesive dough, that pulls away very cleanly from the sides of the saucepan.
Absolutely no flour clumps in the dough.
If I stick a tablespoon in the ball of dough, it'll stay upright without falling (as shown in the picture below). This is called…. the "spoon test". If the spoon falls over, that's a clear indication that there's still too much liquid/moisture in the dough.
NEXT STEP IS COOLING DOWN THE DOUGH
This is important because you don't want to add the eggs while the dough is too hot. This can cook the eggs, and even give your choux an eggy taste. So you need to wait for the eggs to cool down at least to 160°F.
The way I prefer to cool down my dough is to place the eggs in a bowl, and then flatten the dough along the sides of the bowl. This increases the surface area, so it cools down faster, plus more water evaporates as you do this.
Some recipes call for mixing the dough in a stand mixer for a couple of minutes. This is fine too, but make sure you're only mixing it on  low speed and no longer than 2 – 3 minutes. Agitating the dough too much can cause the butter to split from the dough, and then you'll get a really oily looking dough.